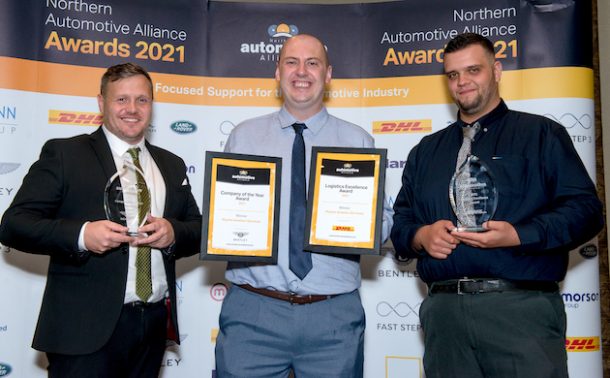 NAA Update: Congratulations to the winners at the 2021 NAA Awards Dinner
Thursday 23 September saw the return of our Annual Business Awards and Networking Dinner, where we welcomed over 180 guests from across our member companies to the Mere Golf Resort and Spa at Knutsford for a fabulous evening of networking, dining and entertainment.
We were treated to industry sector updates from Wes Jacklin, Chairman of our Directors and Advisory Board, together with his predecessor, Michael Straughan, now COO at Aston Martin Lagonda.
Thank you to all those companies who submitted an Award application, sadly not everyone can win, however we do appreciate the time and effort put in. Congratulations to our winners and highly commended companies:
Manufacturing Excellence Award – Sponsored by Jaguar Land Rover
WINNER: Sanko Gosei UK
HIGHLY COMMENDED: Autac Products; Klarius Products
International Trade Award – Sponsored by Amann Threads UK
WINNER: Force Technology
Logistics Excellence Award – Sponsored by DHL Supply Chain
WINNER: Wynne Aviation Services
HIGHLY COMMENDED: Klarius Products
People & Skills Award – Sponsored by Morson Group
WINNER: MGS Technical Plastics
Design & Innovation Award – Sponsored by Klarius Products
WINNER: Spark EV Technology
HIGHLY COMMENDED: Brace Technology; Warwick Acoustics
Corporate & Social Responsibility Award – Sponsored by GEFCO
WINNER: The Blair Project
Company of the Year Award – Sponsored by Bentley Motors
WINNER: Wynne Aviation Services
I would also like to thank all of our sponsors and attendees who made the event so successful
Elsewhere, FAST STEP 3, which is a collaborative research project led by the NAA to use titanium in automotive engines with the ultimate aim of lowering emissions, was part of the formal opening of the Henry Royce Institute Hub building at the University of Manchester on 7th September. Carol Holden of the NAA gave a presentation on the role of Royce in the development of the FAST STEP 3 project and the importance of lightweighting for the Automotive Industry. Read further details here.
Latest news from government on apprenticeships is that employers can now pledge and transfer apprenticeship levy funds. A new online service makes it easier for levy paying employers to transfer unspent funds to support apprenticeships in other businesses. This is a great way for employers to help other businesses, create opportunities and close skills gaps in sectors and locations they want to support. Further details can be found here.
In other industry news, our partner organisation Make UK published its Q3 Manufacturing Outlook report. You can access the full report here
The 14th annual Cenex Low Carbon Vehicle exhibition was held at UTAC Millbrook on 22nd – 23rdSeptember and saw member company Brace Technology have a presence on the Niche Vehicle Network (NVN) stand displaying a prototype off-road EV motorcycle, together with PowerPODS, a modular, configurable battery system. Further information on this recent NVN project can be found here.
Following on from the success of the original Boost Lancashire Peer Networks programme, which a number of our member companies successfully participated in, we are delighted to announce that we are a Peer Network delivery partner for 2021 – 2022, with a planned start date of October 2021 for our next cohort.
The programme is now taking applications and we are looking for SME leaders who want to grow and develop their organisation with the support of like-minded entrepreneurs from across the Lancashire business community – full details can be found here on our website.
We are pleased to announce that in partnership with member company 3DGBIRE and its CREATE project, the NAA is able to offer a two-day training course in Additive Manufacturing Technologies, covering an introduction, exploration and application of a wide variety of techniques including 3D scanning and printing.Please note however, that we need to achieve a minimum number of delegates per course to make this feasible. For further details please contact Zoe.
Staying on the training front, we currently plan to run one of each of the Core Tool courses (FMEA; SPC; APQP; MSA; PPAP) and IATF16949:2016 Internal Auditor over the next few months, again please note that we need to achieve a minimum number of delegates per course to make this feasible. All Core Tool training will be provided by Industry Forum – SMMT Oversight. Industry Forum is the only training provider in the UK sanctioned to deliver SMMT Oversight approved core tools training and certification – if you have staff that require this training, please contact Zoe.
Elsewhere in this month's newsletter, you can read about some of the latest developments from a selection of our other member companies, including Businesswise Solutions, Emerson & Renwick, LiNa Energy, Spark EV Technology and ULEMCo.
Finally, as always, if you need us, please do not hesitate to contact us.
Stay safe.
Paul Jones
NAA CEO