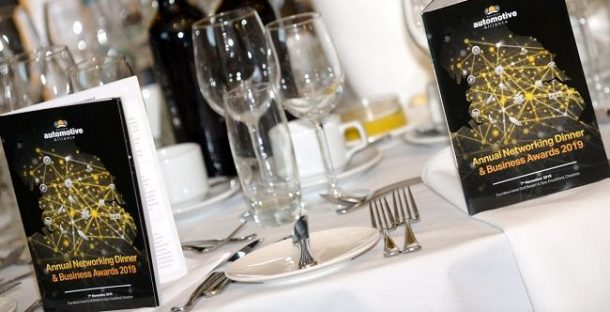 NAA Update: Just over two weeks to go until our Awards & Networking Dinner – last chance to book!
Welcome to this month's newsletter and I hope that you are all keeping well.
With just over two weeks to go until we hold our Awards & Networking Dinner, please reserve your place so you don't miss out. We will be returning to the Mere Golf Resort & Spa in Knutsford on 23rd September and are pleased to confirm our Guest Speaker this year is Michael Straughan, Chief Operating Officer at Aston Martin Lagonda.
For booking, please contact Zoe.
The SMMT will also be hosting its next Meet the Buyer event on 19 October 2021 in Coventry. SMMT's Meet the Buyer event will be returning for its second edition this year, building on the success of the May event. The event will match automotive buyers with suppliers to develop meaningful business connections during this key period of recovery and transition – more details can be found here
This month, I would like to welcome five new NAA member companies: Carr Reinforcements; DT Engineering; E4-3D Engineering for Additive Manufacturing; Melling Performance Springs and Manchester Metropolitan University.
Based in Burnley, Carr Reinforcements is an independent weaver of high-performance fabrics for use in the aerospace, automotive, equestrian, motorcycle, defence, marine and industrial markets and many more composite applications.
DT Engineering is a specialist lifting company based in Cheshire, supplying into multiple sectors, offering a full suite of engineering services for all materials handling, electrical and mechanical projects as a single service, or turnkey solution provider.
E4-3D Engineering for Additive Manufacturing is a start-up company based in Blackpool, with the purpose of using 3D printing for social and economic development.
Located in Lytham St. Annes, Melling Performance Springs is the UK's premier designer and manufacturer of made to order, high quality, precision spring products.
Manchester Metropolitan University is a modern University based in the city centre, with a driving ambition to discover and disseminate knowledge, and make higher education accessible and beneficial to all those with the passion and ability to succeed, working closely with businesses, the community and academic peers – locally, nationally and internationally.
We will hear more from these new members in future e-news.
The Advanced Propulsion Centre has recently launched its latest funding competition, APC19 – Developing Automotive Technologies and Growing Capability. This enables UK businesses to apply for a share of £25 million for late-stage research and development projects that help accelerate the UK towards a net zero automotive future. See here for further details.
Our partner organisation, Make UK, will be hosting an event Product Labelling: UKCA and CE Markings webinar on 20th September 2021. The session will be specifically tailored to business and the steps you will need to take to comply with the new product labelling rules. See here for further details.
Following on from the success of the original Boost Lancashire Peer Networks programme, which a number of our member companies successfully participated in, we are delighted to announce that we are a Peer Network delivery partner for 2021 – 2022, with a planned start date of October 2021 for our next cohort.
The programme is now taking applications and we are looking for SME leaders who want to grow and develop their organisation with the support of like-minded entrepreneurs from across the Lancashire business community – full details can be found here on our website.
Again, on the training and networking front, I would like to remind all SMEs based in Liverpool City Region that we are now actively recruiting participants for round 2 of the BEIS-sponsored Growth Platform Peer Networks programme, due to commence in the autumn. Please see here for full details, eligibility and how to apply.
Elsewhere in this month's newsletter, you can read about some of the latest developments from a selection of our other member companies, including Blackpool & The Fylde College, DHL Supply Chain, Helical Technology and Manchester Metropolitan University.
Finally, as always, if you need us, please do not hesitate to contact us.
Stay safe.
Paul Jones
NAA CEO