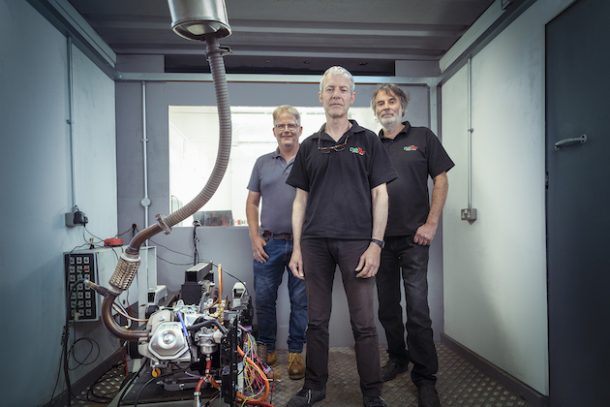 NAA Update: NAA member companies featured in Autocar & Evo Magazines and in new video
Despite the current economic challenges and turbulent political landscape, NAA companies have continued to get on with the job, and have even been featured in Autocar & Evo Magazines, as well as in a new video.
Welcome to this month's newsletter and I hope that you are all keeping well.
It has certainly been an interesting last few weeks, with another new Prime Minister and government entering Parliament last month; we look forward to working with them to ensure the UK automotive sector remains globally competitive. We need a clear and compelling strategy for growth and stability that reassures markets, bolsters consumer confidence and makes sure the UK is seen as investable.
The automotive industry can help drive an economic recovery, but we need a period of stability to deliver the conditions and regulatory certainty which will help us attract investment, talent and innovation, while staying competitive in the global race to net zero.
Closer to home, it was great to see this echoed in a recent Autocar magazine article featuring a number of our member organisations (AMRC North West, Carr Reinforcements, E+R and Oaktec) and titled "How north-west is emerging as a UK automotive powerhouse".
In addition, another member company has also been featured in a separate motoring magazine; watch this video clip here of evo magazine demonstrating at the Anglesey circuit that the BAC Mono R is the fastest car that they have ever tested – a great achievement for all of the team at BAC.
As if all that wasn't enough, there's more: a number of NAA member companies appear in the video that summarises the achievements of the NAA's FAST STEP 3 project, a collaborative research project to use titanium in automotive engines with the ultimate aim of lowering vehicle emissions. The FAST STEP 3 project communication, including the website, was produced by NAA member Automotive Comms, and the video was produced by NAA member Bigtank Video Productions. Watch the FAST STEP 3 project video here.
Elsewhere last month, another £211m funding was announced by the then Business Secretary, Jacob Rees-Mogg, aiming to further boost Battery Research and Innovation. Building on earlier funding (which now totals £541m), the Faraday Battery Challenge which began in 2017 will continue to support world-class scientific technology development and manufacturing scale-up capability for batteries in the UK. It will help the sector deliver 100,000 jobs in battery gigafactories and the battery supply chain by 2040.
Moving on to the membership side, I would like to welcome one new member this month; based in Lancaster, NanoSUN is an award-winning, engineering company focused on the development, manufacture and commercialisation of hydrogen refuelling solutions for the transport sector – NanoSUN has recently signed an MoU with Czech Republic Partner, HYDROGEN SYSTEMS. The MOU between the two companies aims to explore commercial market opportunities for the uptake of mobile hydrogen refuelling in a range of transport applications across Czech Republic and Slovakia – you can read more about this later in the e-news.
Member News
Elsewhere in this month's newsletter, you can read about some of the latest developments from a selection of our other members, including Element Materials Technology, The Blair Project, MMU, Senseye and Valuechain Technology.
Events/Webinars
On 27 October, we held a networking event at UTAC's Leyland Technical Centre – you can read the event review later in the e-news.
We've been busy working on our forward programme, with lots of webinars and events coming up for your diary…
We will hold our next NAA Members' Virtual Roundtable on 1st December, 11:00-12:00 – the Roundtable offers a great opportunity to network with fellow members from the convenience of your own desk.
On 8 December, NAA Member, Xemptor Consulting will host a webinar on "Procurement" – full details can be found here
Moving forward to Q1 of 2023, we will be holding our next face-to-face networking event at NAA member vompany, DHL Supply Chain on 18 January – details will follow via html soon.
Later in January, we will be hosting a webinar in conjunction with Grant Thornton, who will be sharing insights into their global automotive sector expertise – details will follow via html soon.
On 16 February, The Institute of Export & International Trade will host a webinar offering practical support to companies already or planning to be involved with export and international trade.
To register for any of the above events and webinars, please contact Zoe
Other News
The Institute of Export & International Trade (IOE&IT) is asking you to share your thoughts and feedback about the implementation of the new UK Single Trade Window – if you could spare 15 minutes of time to complete the survey it would be really helpful – full details later in the e-news.
Q4 Training – LAST CHANCE TO REGISTER!
IATF16949:2016 – Lead Auditor (5 Days): 28 November – 2 December (Virtual)
Contact Zoe to register for above
Core Tools / Internal Auditor – Dates for 2023 TBC (Virtual)
Measurement Systems Analysis (MSA – 1 Day)
Production Part Approval Process (PPAP – 1 Day)
Statistical Process Control (SPC – 1 Day)
Advanced Product Quality Planning (APQP – 1 Day)
Failure Mode and Effects Analysis (FMEA – 1 Day)
IATF16949:2016 – Internal Auditor (2 Days)
To register your interest in the above courses, contact Zoe
If you would like to submit content to feature in an upcoming e-news please contact Zoe.
Stay safe.
Paul Jones
NAA CEO