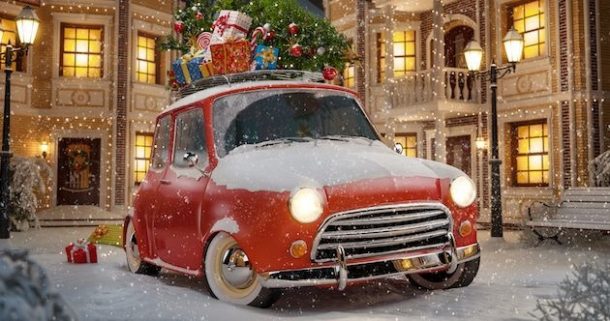 NAA Update: Season's Greetings from the NAA
Welcome to this month's newsletter and I hope that you are all keeping well.
It's hard to believe that we are in December already and as I look back on the year, once again what a challenge 2021 has been for us all and also for our industry.
However, with the majority of the population now double vaccinated and many in receipt of a booster too, let's all look forward to a better 2022.
Following on from the success of our member virtual roundtables this year, for 2022 we are planning to open invitations to these monthly on a first-come, first-served basis. So look out for the next invitation and please be sure to book your place early.
February 24th will see a planned return to physical events with a roundtable and networking event held in conjunction with NAA member company, Businesswise Solutions. This will focus on the impact of net-zero carbon on the automotive supply chain. You will hear from a range of speakers including myself and Adam Baker, Director of Business Development, Businesswise Solutions – to reserve your place at this event, please contact Zoe.
With the growing urge to meet net-zero carbon targets for 2050, we are delighted to support the upcoming IMechE seminar in March, covering the latest techniques and technologies for remanufacturing – Discount for NAA members: www.imeche.org/remanufacturing
Elsewhere recent new NAA member company E4-3D has developed an E-commerce marketplace for additive manufacturing, a revolutionary new business model changing the way that we buy and sell products. Further information is available here.
This month I would like to welcome three new members: 3D 360, Prosol UK Sales & Distribution, and MATD Solutions.
Based in Lancashire, 3D 360 aims to support every aspect of your 3D Printing needs, providing expert advice, guidance, and support and to supply everything you need to produce consistent quality printing.
Also based in Lancashire is MATD Solutions, providing solutions in the engineering, product, test, development and approvals sector, focussed around three key areas: strategic business growth/development, strategic and management consulting, and technical consulting.
Prosol UK Sales & Distribution was established in 1991 to provide tools, signs, equipment and workshop supplies to the Motor Trade via mail order and it was one of the first companies in this sector to offer an e-commerce shop to their clients back in 1997! Prosol's comprehensive product offering has developed over the years to cover all areas of the safety, administration and efficiency of the most demanding workshop environments.
We will be hearing more from our new members in the coming months.
On the funding front, the Automotive Transformation Fund expression of interest round 17 is now open. Registered businesses can now apply for a share of up to £1 billion for capital centric investment projects that help industrialise the electrified automotive supply chain at scale in the UK. Further details on how to apply can be found here.
Elsewhere, a new Plastic Packaging Tax (PPT) is to be introduced from 1 April 2022 and will apply to all finished plastic packaging manufactured in, or imported into the UK, that does not contain at least 30% recycled plastic. Our partner organisation Make UK has provided further details on how it might impact your business and what steps you may need to take – full details can be found further in the e-news.
Training
We have the popular Dale Carnegie Course "Effective Communications and Human Relations" (formerly known as "How to be an Effective Leader") scheduled for a January 2022 start – this online course gives you the human relations skills to thrive in any setting. Discover how to form closer, more rewarding relationships built on trust and respect. Increasing your confidence and competence in interacting with others will gain the influence you need to reach new heights in your personal and professional life – full details can be found here
In partnership with member company 3DGBIRE and its CREATE project, the NAA is able to offer a two-day training course in Additive Manufacturing Technologies, covering an introduction, exploration and application of a wide variety of techniques including 3-D scanning and printing. Please note however, that we need to achieve a minimum number of delegates per course to make this feasible. For further details please contact Zoe.
We have scheduled a 1 Day AIAG/VDA Combined FMEA Awareness Course for 20th January and a 2 Day AIAG/VDA Combined FMEA Practitioner Course on 26th/27th January – full details on both of these courses can be found here. If any of your employees / colleagues require this training, please contact Zoe. Again, please note that we need to achieve a minimum number of delegates per course to make this feasible. All Core Tool training will be provided by Industry Forum – SMMT Oversight. Industry Forum is the only training provider in the UK sanctioned to deliver SMMT Oversight approved core tools training and certification. We currently plan to run one of each of the Core Tool Courses (FMEA; SPC; APQP; MSA; PPAP) and IATF16949:2016 Internal Auditor over the next few months so please look out for communications regarding these.
Elsewhere in this month's newsletter, you can read about some of the latest developments from a selection of our other member companies including: E4-3D, Klarius Products, Senseye, Spark EV Technology, The Blair Project and ULEMCo.
Finally, I would like to wish you and your families a peaceful, safe and relaxing Christmas and a prosperous new year.
Stay safe.
Paul Jones
NAA CEO