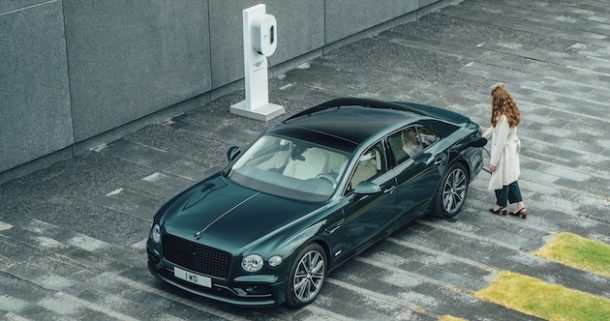 NAA Update: UK car manufacturing falls in 2022, but electrified vehicle production rises
UK automotive production fell in 2022, but Bentley's sales increased and commercial vehicle production rose; Stellantis's Ellesmere Port plant is due to be the UK's first all-electric vehicle production facility in 2023.
Welcome to this month's newsletter and I hope that you are all keeping well.
2021 was challenging enough, but the latest UK automotive production figures illustrate just how difficult 2022 was for our sector. Car manufacturing fell by almost 10% to 775,014 units due to persistent supply chain issues – most notably semiconductor shortages and the effects of lockdowns in China.
But despite all that, there have been some positives. UK factories turned out a record number of electrified vehicles – with combined volumes representing almost a third of all car production. 234,066 battery electric (BEV), plug-in hybrid (PHEV) and hybrid (HEV) electric vehicles were made in Britain with combined volumes up 4.5% year-on-year.
Within our membership, Bentley Motors announced total sales of 15,174 in 2022, an increase of 4 per cent over the previous record year (14,659) in 2021. This significant achievement was driven by new model introductions and increasing demand for Mulliner personalisation and Bentley's new hybridised models, introduced under Bentley's Beyond100 strategic path to full electrification by 2030 – read more about this later in the e-news.
There was further good news in terms of commercial vehicle production delivered its best year in a decade, as manufacturing output rose by 39.3% to 101,600 units and we expect further growth this year as NAA member Stellantis's Ellesmere Port plant comes back online as the UK's first all-electric vehicle production facility.
Elsewhere, April is hurtling towards us, and that means HMRC's raft of new requirements for Research & Development (R&D) tax relief claims are right around the corner – with this in mind, NAA Member, The Tax Credit Co., has put together some really useful information on what businesses need to know here
What better way to get 2023 off to a great start than with an opportunity for collaborative research and development (CR&D) funding? The APC has launched its latest competition – its funding and expertise supports projects in implementing new propulsion technologies and processes within the automotive sector, including passenger car, bus, off-highway and heavy-duty – find out more and start your application here
Member News
The University of Liverpool Management School is offering an incredible opportunity to invest in yourself and your business through the 90% government-funded Help To Grow: Management programme – the next cohort starts next month and full details can be found later in the e-news.
Bentley Motors this week launched the 2023 Apprenticeship Programme, announcing 37 new apprenticeship vacancies to coincide with the launch of National Apprenticeship Week. Opportunities are now available for future talent to join the world's most sought-after luxury car brand, based at Bentley's carbon neutral 'Dream Factory' in Crewe – full details can be found here.
Elsewhere in this month's newsletter, you can read about some of the latest developments from a selection of our other members, including BAC, Melling Performance Springs, Oaktec and the University of Liverpool.
NAA Events / Webinars
Last month saw the first networking event of 2023, hosted by member company DHL Supply Chain – full event review can be found later in the e-news.
Also in January, we hosted a webinar in conjunction with Grant Thornton, who shared their insights on the automotive sector and the key challenges and opportunities in 2023 – if you missed this webinar, please contact Zoe for the recording.
Dates for your diary
On 16 February, The Institute of Export & International Trade will host a webinar offering practical support to companies already or planning to be involved with export and international trade – full details can be found here.
On 28 February, C&W 4.0 and ECO-I NW Present…. A Roadmap to Decarbonisation – Join us to explore how emerging technology can be employed to help reduce costs, improve efficiencies and ultimately support your journey to a more sustainable future. This event will identify the Decarbonisation challenges that all SMEs are facing and how they can be addressed through the adoption of digital technologies, together with the support available to businesses.
With speakers and contributions including Bentley Motors, DHL, Autac Products, Tithebarn, Klarity 4.0 HR and Faraday Batteries, you will hear through case studies how companies of all sizes can accelerate towards Decarbonisation and improve productivity.
Tours and technical demonstrations are an integral part of this event and will showcase practical technologies that can support your businesses – full details and registration can be found on our website here.
The next NAA Members' Virtual Roundtable will take place on Thursday, 9 March, 11:00-12:00 – the Roundtable offers a great opportunity to network with fellow members from the convenience of your own desk.
For those looking into IATF16949:2016 Internal Auditor and Core Tool training – please see later in e-news for our 2023 dates – we also have a VDA 6.3 update course scheduled – The update training covers the alterations to VDA6.3 (2016) edition, including updates to the questionnaire, changes to the evaluation, changes to the potential analysis and other adjustments. The upgrade is also required for anyone who's VDA 6.3 Process Auditor Qualification Certification (ID 353) expires in 2023 and needs to extend their certification.
To register for any of the above events and webinars, please contact Zoe
Our partner Make UK will host its annual National Manufacturing Conference, on the 7 March 2023. The event will take place at the QEII Centre in London, and the line-up of keynote speakers has just been announced – see later in e-news for full details.
Other News
In conjunction with the CW4.0 Project, the NAA is looking for manufacturing companies based in Cheshire. If you are an SME with a turnover of less than €50 million or a balance sheet total of less than €43 million and are interested in opportunities for growth and investment through the adoption of digital technology, please see full details later in e-news.
Following on from the success of the original Boost Lancashire Peer Networks programme, we are delighted to announce that we are a delivery partner for the Boost Business Owners Network.
Boost, Lancashire's Business Growth Hub, is the lead body for the Boost Business Owners Network. Boost is led by Lancashire County Council and the Lancashire LEP (Local Enterprise Partnership). It is supported by funding from Lancashire County Council, the European Regional Development Fund (ERDF) and the Department of Business, Energy and Industrial Strategy.
The programme is now taking applications and we are looking for SME leaders who want to grow and develop their organisation with the support of like-minded entrepreneurs from across the Lancashire Region's business community – full details can be found here
If you would like to submit content to feature in an upcoming e-news please contact Zoe.
Paul Jones
NAA CEO