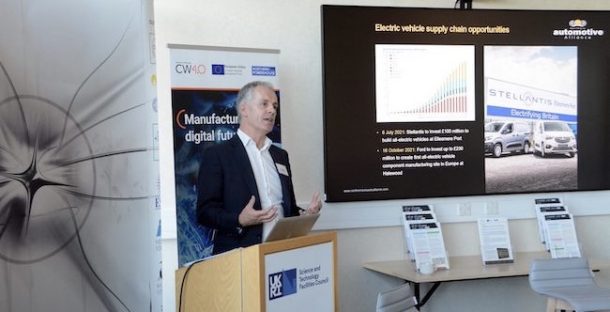 NAA Update: Budget update, CW4.0 launch, APC TDAP, and more…
This month's update includes policies in the Budget for the Automotive sector; CW4.0 has been launched, supporting manufacturing SMEs across Cheshire and Warrington to accelerate opportunities via digital technology; and the Advanced Propulsion Centre Technology Developer Accelerator Programme (TDAP) is back.
Welcome to this month's newsletter and I hope that you are all keeping well.
I'm sure that you are all aware that effects of the pandemic, including supply chain disruption, skills shortages and punitive energy costs, continue to challenge businesses across our entire sector.
Last month's Budget included some significant policies for automotive, recognition of the importance of the sector, its ability to drive innovation and exports, and to create well-paid, highly skilled green jobs across the country, all of which are critical to the Government's agenda of an exporting nation, leading on decarbonisation and 'levelling up' across the UK.
The most notable of these policies came when the Chancellor announced his decision to adjust business rates to allow relief on renewable energy and the extension of the super-deduction. Together with the Global Britain Investment Fund, which provides £817m to support the technological transition of automotive manufacturing and the £620m, announced earlier last month, for incentives and charging infrastructure, there is evidence that Government recognises the critical role the automotive sector needs to play.
Elsewhere, the Advanced Propulsion Centre has just announced that its Technology Developer Accelerator Programme (TDAP) is back for its sixth wave and it is now inviting expressions of interest.

TDAP is an 18-month programme, backed by The Department for Business, Energy and Industrial Strategy (BEIS), which supports SMEs – whether start-ups, spin-outs or more mature organisations – who have an early-stage transport or mobility technology concept and want to accelerate their route to market. To date, 36 businesses have completed the programme, receiving a share of £7 million in funding. Recent companies to join the programme include Lancaster-based NAA member, LiNa Energy.
To find out if you're eligible for TDAP Wave 6, you can submit an expression of interest using the link here.
Last week saw the formal launch event for CW4.0, a new ERDF-funded project, supporting manufacturing SMEs across Cheshire and Warrington to accelerate opportunities via digital technology. In addition to the NAA, other project delivery partners who participated included:
• Virtual Engineering Centre
• Liverpool John Moores University
• Science and Technology Facilities Council
To find out more about CW4.0 and whether you may be eligible for support, please contact Zoe.
On the event front, upcoming dates for your diary include:
NAA Partner, Make UK, will be hosting a webinar on 22 November – 'New UK Import Controls & Changes to Rules of Origin in 2022' – full details can be found further in the e-news
The Institution of Mechanical Engineers IMechE is holding a two-day conference in December – 'Powertrain Systems for Net-Zero Transport' – please see further in e-news for full details.
This month I would like to welcome four new members:
Advanced Adhesives, an industry leading adhesive manufacturer based in Newcastle upon Tyne
EMB Power located in Chelford, Cheshire, an engineering business specialising in electrification and autonomy
Thriiive UK based in Castletown, Isle of Man; Thriiive UK supports manufacturers to improve delivery performance and release cash from their inventory using a unique technology that enables them to develop World Class operations management processes to APICS standards
Wearwell Europe, a global leader in anti-fatigue matting and flooring.
We will be hearing more from our new members in the coming months.
Following on from the success of the original Boost Lancashire Peer Networks programme, which a number of our member companies successfully participated in, we still have a few places left for the 2021 – 2022 Cohort, with a planned start date of late November 2021 – we are looking for SME leaders who want to grow and develop their organisation with the support of like-minded entrepreneurs from across the Lancashire business community – full details can be found here on our website.
Training:
We have the popular Dale Carnegie Course 'Effective Communications and Human Relations' (formerly known as 'How to be an Effective Leader') scheduled for a January 2022 start – this online course gives you the human relations skills to thrive in any setting. Discover how to form closer, more rewarding relationships built on trust and respect. Increasing your confidence and competence in interacting with others will gain the influence you need to reach new heights in your personal and professional life – full details can be found here
In partnership with member company 3DGBIRE and its CREATE project, the NAA is able to offer a two-day training course in Additive Manufacturing Technologies, covering an introduction, exploration and application of a wide variety of techniques including 3-D scanning and printing. Please note however, that we need to achieve a minimum number of delegates per course to make this feasible. For further details please contact Zoe.
Core Tool Courses – We currently plan to run one of each of the Core Tool Courses (FMEA; SPC; APQP; MSA; PPAP) and IATF16949:2016 Internal Auditor over the next few months. We have scheduled a 1 Day AIAG/VDA Combined FMEA Awareness Course for 20th January and a 2 Day AIAG/VDA Combined FMEA Practitioner Course on 26th/27th January – full details on both of these courses can be found here. If any of your employees / colleagues require this training, please contact Zoe. Again, please note that we need to achieve a minimum number of delegates per course to make this feasible. All Core Tool training will be provided by Industry Forum – SMMT Oversight. Industry Forum is the only training provider in the UK sanctioned to deliver SMMT Oversight approved core tools training and certification.
Further news on the training front is that the High Value Manufacturing Catapult was appointed by the Department for Education (DfE) to lead on a unique collaborative project with Enginuity, employers, universities and colleges to develop cutting-edge training content and train the trainer packages, focusing on new and emerging technologies including vehicle electrification. Further details, including how to book a free place, can be found here
SMMT Industry Forum's low cost series of technical boot camps is back – The boot camp is designed to teach delegates how to design, manufacture, build and run the production of the different primary elements of an electric vehicle's (EV's) powertrain. The series is aimed at engineers, project managers and commercial staff looking to build on their technical understanding of the subject, requires no existing knowledge and is CPD certified. The boot camp, running from the 23rd-25th of November, covers 5 modules, with the ability to purchase modules individually at £150 per person – more information on modules here
Elsewhere in this month's newsletter, you can read about some of the latest developments from a selection of our other member companies including Preston Technical, Spark EV Technology and ULEMCo.
Finally, as always, if you need us, please do not hesitate to contact us.
Stay safe.
Paul Jones
NAA CEO