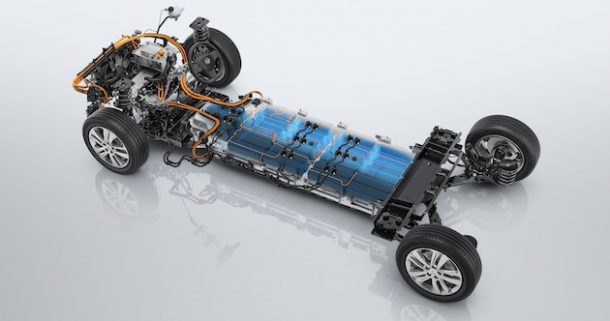 NAA Update: UK vehicle manufacturing expected to be worth £4 billion in 2023, with increasing electrification
January saw a surge in electrified car output, up by half to take a near record share of production, with UK Automotive being the country's largest exporter of goods.
Welcome to this month's newsletter and I hope that you are all keeping well.
Having dealt with an array of challenges as an industry in 2022, it's good to begin to have some more positive news as we move through this year.
January's surge in electrified car output, up by half to take a near record share of production, is evidence of our expertise in manufacturing these new technology vehicles, the majority of which are exported to meet global demand.
Manufacturers are already committed to producing more electric vehicles and components in our region, with recent investment announcements in Crewe, and Liverpool.
Zero emission commercial vehicle manufacturing is also on the rise, contributing last month to the best start to a year for the sector in more than a decade. And volumes are expected to grow significantly in 2023 as new electric van models begin production at Ellesmere Port.
As the sector's post-COVID recovery continues, we expect vehicle manufacturing to post growth worth near to £4 billion this year with output closing in on one million units – an increasing proportion of these being electrified and built to meet global demand. UK Automotive is the country's largest exporter of goods and is uniquely placed to support Britain's net zero, levelling up, innovation and global trade agendas. Increasing our competitiveness will fuel ongoing success, not just for the sector but the wider economy, with jobs and growth supported in all regions of the UK.
There continues to be investment support available for electric vehicle and battery development, with Innovate UK recently announcing that UK registered micro, small and medium enterprises can apply for a share of up to £1.5 million to increase and facilitate their engagement with the UK Battery Industrialisation Centre. See here for further details:
UK Battery Industrialisation Centre SME credit round 1 – UKRI
Moving on to member news, NAA Member 3D360 has been chosen to deliver the new Department for Education-backed Skills Bootcamps in Cheshire, GMCA and Cumbria (Lancashire and Merseyside should come online in April 23. The 3D360 DfE Skills Bootcamps cover 3D Printing, 3D CAD, Digital Manufacturing and Industry 4.0. The courses consist of 11 modules which make up a total of 66 hours of trainer-led learning which is split up over a flexible 16-week programme – full details can be found later in the e-news or here.
I would like to welcome two new members this month:
George Utz Ltd is a leading designer and manufacturer of returnable and reusable plastic containers for storage and transport, component holders and pallets.
Agile Group Systems and Services (AGSS) is a leading UK-based manufacturing and engineering technology group. AGSS has just been awarded a prestigious Innovate UK grant to develop a part-level carbon calculator – you can read more about this later in the e-news or here.
Elsewhere in this month's newsletter, you can read about some of the latest developments from a selection of our other members, including Bentley Motors and Team Eco.
NAA Events / Webinars
Our most recent webinar – 'International Trade: A Digitalised Future' was hosted in conjunction with the Institute of Export and International Trade's UK Manufacturing Trade Lead, Paul Brooks and Content Editor, Richard Cree – please read the event review later in e-news.
Last week, the NAA jointly hosted the CW4.0 networking event 'Accelerate your journey to Net Zero – A roadmap to decarbonisation through digital technologies' – please see later in e-news for the event review.
Dates for your diary
The next NAA Members' Virtual Roundtable will take place tomorrow / 10:00-11:00 – the Roundtable offers a great opportunity to network with fellow members from the convenience of your own desk.
On 30 March, we will head to AMANN Threads UK in Ashton under Lyne for our next networking event – full details can be found later in e-news.
Other Events / Webinars
On 30 March, Make UK will host an International Trade Webinar – Product Labelling: UKCA & CE Marking / 12:00 – 13:00. This short webinar will provide a further update on the actions that businesses will need to take to ensure how to comply with the extended UK regulatory framework for goods, specifically in regard to product and machinery labelling – full details can be found later in e-news.
For those looking into IATF16949:2016 Internal Auditor and Core Tool training, please visit our training hub – Courses commence next month and we have just added VDA 6.3 Update.
To register for any of the above events; training or webinars, please contact Zoe
Other News
In conjunction with the CW4.0 Project, the NAA is looking for manufacturing companies based in Cheshire. There are only 4 months remaining to apply, so if you are an SME with a turnover of less than €50 million, or a balance sheet total of less than €43 million, and are interested in opportunities for growth and investment through the adoption of digital technology, please see full details later in e-news or here.
If you would like to submit content to feature in an upcoming e-news please contact Zoe.
Paul Jones
NAA CEO